Welcome to my official site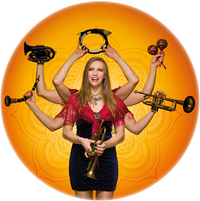 I Love to make Miles on Trumpet! 
My mission is to connect audiences of different ages and cultures with interactive concerts.

I travel the world with my bands from two to eight musicians. 
My latest tours were in the Netherlands, US, India, Serbia and Thailand
With the Saskia Laroo Band we play at major festivals (Brazil, Canada, Singapore, USA, Zimbabwe, Baltic States).
With Duo Laroo/Byrd we collaborate with local music talent worldwide (Burundi, Hong Kong, Russia, Vietnam).
With Jazzkia Meets Hip-Hop we turn ol' jazz lovers to groovy Hip-Hop and young Rap fans to Cool Jazz (China, South Korea, India, Chile, Poland, DR Congo, Ukraine).
My original and recorded music is a combination of jazz, pop, world and dance.
Laroo Records released worldwide my 8+ CD albums, one DVD, one LP and several videoclips.
My latest album on CD and LP is Trumpets Around The World
ABOUT
Saskia Laroo (1959) was hailed by American public and press at large as "Lady Miles of Europe". She is one of the few women trumpet stylists and a delight on the music scene for almost four decades. Born July 31, 1959 in Amsterdam, it began for her on trumpet at age 8, never dreaming herself becoming a professional musician. That all changed when Saskia, turned 18, after briefly majoring in Mathematics at University of Amsterdam switched her focus to a career in music. She worked extensively in various groups from this point, primarily on upright bass, though eventually, on both bass and trumpet. Saskia Laroo combines today's music by uncontrived romps into new styles, eagerly limned as "nu jazz" or "swingin' body-music"–a vivacious blend of hip-hop, jazz, salsa, funk reggae, and world, that a select few others would dare venture. Her artistry and her groove ring vibrantly and free on her eight CD albums, a LP and a DVD, journeying us through all the music she has absorbed, played with heart and soul. 
(Dutch)
Laroo toert internationaal met eigen muziek, gespeeld door haar bands van twee tot acht musici. Laatste festival -en clubtournees waren in de VS, India, Servie en Thailand.
Met de Saskia Laroo Band speelt ze op grote festivals (Brazilie, Canada, Singapore, VS, Zimbabwe, Baltic States).
Met Duo Laroo/Byrd werkt ze samen met lokaal muziektalent (Burundi, Hong Kong, Rusland, Vietnam).
Met Jazzkia Meets Hiphop brengt ze toegankelijke groovy hiphop aan verstokte jazzliefhebbers en Cool Jazz aan jonge Rap Fans (China, Zuid-Korea, India, Chili, Polen, DR Congo, Ukraine).
Haar eigen opgenomen muziek is een combinatie van jazz, pop, world en dance.
Laroo Records heeft wereldwijd haar 8+ cd-albums, een dvd, een LP en verschillende videoclips uitgebracht.
Haar nieuwste album op CD en LP is Trumpets Around The World
Saskia Laroo, in Amerika door pers en publiek gebombardeerd tot 'Lady Miles Davis of Europe', is een van de weinige vrouwen die al meer dan vier decennia een trompet blaast.
Geboren op 31 juli 1959 in Amsterdam, begon ze op achtjarige leeftijds met trompet spelen, zonder er ook maar over te dromen later een professioneel muzikante te worden. 
Dat veranderde toen Saskia achttien was. Ze ging wiskunde studeren aan de Universiteit van Amsterdam en maakte een ommezwaai richting muziek. Ze speelde in veel verschillende groepen , eerst contrabas, maar later ook de trompet.Saskia Laroo creëert nieuwe stijlen, die worden omschreven als 'nu jazz' of 'swinging body music'. Ze combineert verschillende muzikale stijlen zoals jazz, pop, dance en world op een manier dat het lijkt alsof ze altijd bij elkaar hebben gehoord. 
Het resultaat is een prettig mengsel van hip-hop, jazz, salsa, funk, reggae, dat niet veel muzikanten kunnen waarmaken. De opgedane muzikale ervaringen zette ze om in acht CD's, een LP en een live-DVD, die variëren van dance, jazz en salsa-bop tot pure jazz en waarin ze haar persoonlijkheid sterk neerzet.
Our Thailand tour Nov/Dec 2022